Hey STEM Friends! I've teamed up with some of your favorite STEM Teachers and resource creators to help you finish the year strong OR get next school year off to a great start! Sign up at the bottom of the page to get these 11 freebies delivered to your inbox. 
Want to share this with your team?  Please share this page with your team so they can download the resources.  The resources being provided are yours to use for personal, classroom use. Please do not  post in any shared folders online (Google Drive, Drop Box, etc.), on your class website, in Facebook groups, or anywhere to be used by people other than you. If we notice that this is happening we will not be able to share amazing opportunities like this in the future. Thanks in advance for understanding!
Here is the list of what's included in this FREE bundle
Resource from Kerry Tracy
Looking for a plant activity to apply learning in plant needs, parts/functions, adaptations, life cycles, cells, photosynthesis, and/or genetics & heredity? This STEM challenge is a perfectly engaging way to get the job done joyfully!
The Planetopia Plants challenge works well any time of the year, and the completed designs and extension projects make beautiful displays for Back to School Night or Open House!
Vocab Coding - Parts Inside a Computer
Resource from Brittany Washburn
Coding meets vocabulary instruction with VoCode! Integrate those robots you have (or turn students into robots) to complete these coding challenges. 3 Options for the activities mean that you can use this with ANY movable Bots and ANY grade level of students. 
This set includes Parts Inside a Computer. 
How to Use:
The most straightforward way to use these activities is to have students program their bot to go to one term at a time.
To add a challenge, give students multiple stopping points for their path.
This might mean choosing 5 cards from the pile and that is the order in which they need to write their program.
Add levels of complexity by requiring students to program in "jumping over" pieces or spaces, and "collecting" and "discarding" the pieces they picked from the pile.
Due to the factor of choice in these activities, there are no answer keys. Have students check each other.
Resource from Meredith Anderson
STEM can be effective with even the simplest supplies. Using primarily string, explore structures, sound, non-linear measurements, and energy transformation. Included in this resource are tips to get started, completed examples, evaluation rubric, task cards, and recording pages for each of the 5 main STEM challenges that guide the students through the engineering design process:
→ Suspension Bridge (forces, tension)
→ Musical Strings (sound)
→ Archery (elastic potential energy and kinetic energy)
→ Spy Maze (working in 3 dimensions)
→ Winch or Capstan (simple machines, force and motion)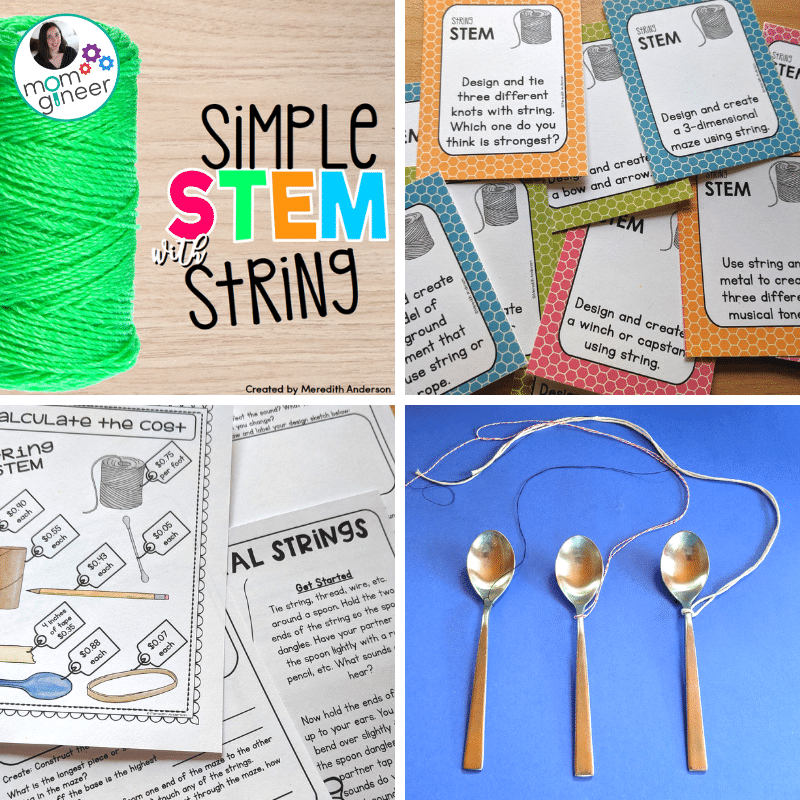 I Can Create STEM Choice Boards Pre-K, Kindergarten, 1st Grade, and SPED (Alphabet Edition)
Resource from Jewel's School Gems
It is often thought that STEM is only for older and advanced learners, but this can't be further from the truth. STEM is for everyone. I Can Create STEM Choice Boards were created to encourage little ones, pre-readers, and students with special needs to think creatively, work to the best of their ability, complete their work on time, and build using the engineering design process.
These STEM Choice Boards will be really useful in in a classroom or library MakerSpace. You can print the boards on colored paper and display them on the walls or you can also photocopy these for your students so they can cross off tasks as they complete them.
Each I Can Create STEM Choice Board in this Alphabet Edition is representative of a letter and comes with nine choices for a build (with the middle one being a FREE CHOICE). The Table of Contents shows all the words covered for each letter.
You can use these STEM Choice Boards for morning work, group work, homework, early finisher activity, extension/enrichment work, and so much MORE.
Students can complete their chosen task using any of the materials in the MakerSpace or whichever ones you have available. LEGO, linking cubes, unifix cubes, pattern blocks, play dough, geoboards, Qubits, Magformers, Keva Planks, and kinetic sand are just some of the materials students can use, as well as recyclable materials.
Also included in this resource are a Guide on How to Use This Resource, a Planning Sheet, Teacher and Self-Assessment Rubrics, and Certificates.
Resource from More than a Worksheet
Magnets are fun to explore! These 36 hands on magnet investigation task cards take students beyond just, "Is it magnetic?" They will test magnetism through various objects (cardboard, plastic, Play-doh, and more!). These task cards lead students to investigate magnetic concepts and encourage them to ask their own questions, just like scientists!
Included:
-36 magnet investigation task cards
-4 create your own challenge cards
-4 blank cards -simple recording sheet
-detailed notes to teacher
Additional Material Requirements:
-All of the task cards will require a variety of magnets. I recommend at least 2 of each: bar magnets, ring magnets, horseshoe magnets. The charts provided shows the materials that you will need in addition to magnets, mostly basic materials like paperclips, cardboard, pencil box, etc…
Ideas for Use:
-Set up a magnet station in your room, and let students work through the challenges in groups or as a center.
-Give all of the challenges at once, or change out the challenges each week.
-Have students rotate through various challenges as a set of rotating stations.
-Have groups of students work on individual challenges at their seats, share findings, and switch.
Paper Airplane STEM Challenge
Resource from Lisa Taylor
Paper Airplane STEM Challenges is a packet of experiments your students will love! Flying and creating paper airplanes is a fun activity that will engage your students as they collect data and use measurement skills. These activities can also be used for STEAM Activities, Maker Spaces, Tinkering Labs, Summer Programs, or After School Clubs.
Resource from Vivify STEM
In this extensive Botany STEM Challenge, students create window greenhouses and observe plant growth. Then they use the engineering design process to build a plant transportation device to safely carry their saplings home! This challenge also highlights Katherine Esau, a pioneer in Botany. History, science, engineering, and math– it is all included along with teacher instructions and student handouts.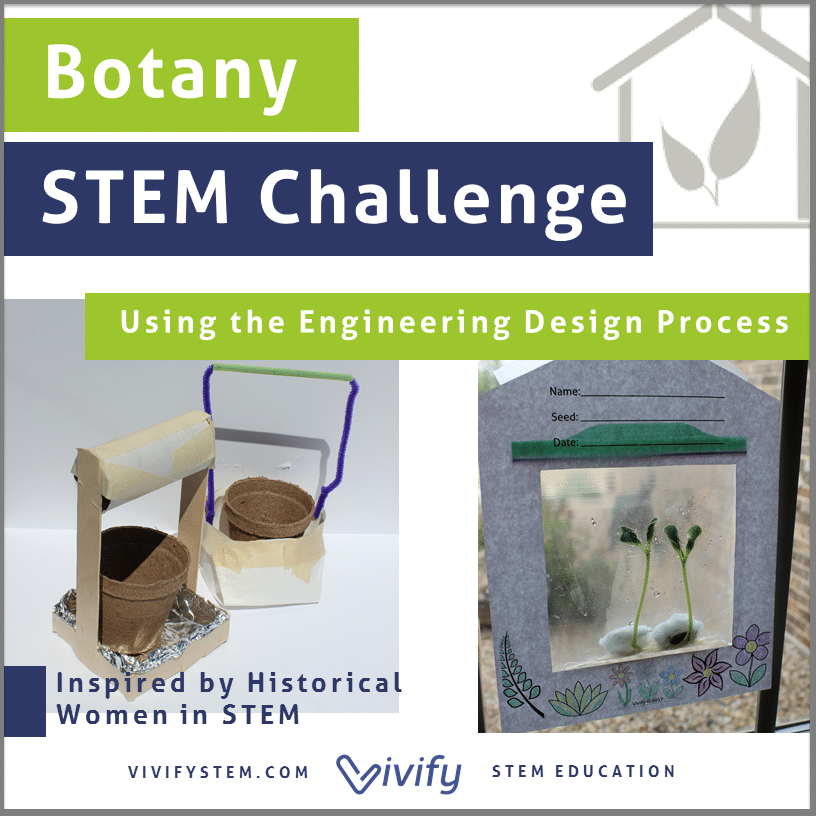 Storybook STEM: If You Take a Mouse to School
Resource from Brooke Brown
This pack includes a Magnetic Mouse Maze STEM Challenge and Language Arts Lessons to accompany If You Take a Mouse to School by Laura Numeroff.
Resource from Teachers Are Terrific 
Kids love to build towers! It becomes a competition and this one is quite challenging, as well! It features a tennis ball and some wacky rules about height and the use of the materials!
Popcorn Science and STEM Pack with Digital Slides
Resource from Science School Yard
This popcorn themed resource helps you teach the Five Senses! This digital resource also has five hands on stations as they learn about their senses! Let's go Google with our little ones to get them interacting and engaged in their learning!

A great resource for fast finishers in your classroom centers. Perfect for special ed. or your RTI groups, as well. It's never too early to embrace technology into your kindergarten and first grade class. I use this resource to compliment my 5 Senses Unit!
Resource from Stem to STEAM Trio
This STEM / STEAM Challenge is the perfect way to get students excited about insects at the beginning of a unit, or it can be used as an assessment at the end of a unit. Students will build an insect within given parameters while using their creative side to make it unique!
By requesting this free bundle you are opting in to each creator's email list.  You can opt out at anytime!  But, we think you'll want to stay on these lists to keep receiving information and promotions from these STEM resource creators!
When you enter your name and email address to request the bundle you will be sent a separate email (typically very quickly, but sometimes it can take up to 24 hours). Be sure to check your spam folders, as sometimes they can swallow these amazing emails and keep them a bit hidden from you.
Note that these resources are also coming as a clickable button in an email. Please download them right away or make a copy in your Drive right away as the link will expire.