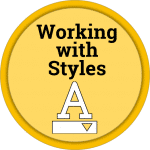 A style is a predefined combination of font style, color, and size that can be applied to any text in your document. Styles can help your documents achieve a more professional look and feel. You can also use styles to quickly change several things in your document at the same time.
Tasks:
Open the template.
Give the text "Buddy Here! I'm so happy you're back!" a Title Style. You can choose one of the pre-formatted title styles or make your own. 
Change the rest of the next to a Normal style that changes all of the font. Make it look professional. You may even customize your own style with a font of your choice. 
The finished result should look like this: