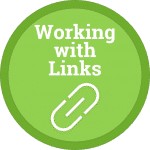 Adding hyperlinks to text can provide access to websites and email addresses directly from your document. There are a few ways to insert a hyperlink into your document. Depending on how you want the link to appear, you can use your word processor's automatic link formatting or convert text into a link.
Tasks:
Open the template file.
Find the first link in paragraph 1, remove the hyperlink. 
The hyperlink that says "Private Information" has an error. Replace it with the link: https://www.commonsense.org/education/digital-citizenship/curriculum?topic=privacy–security&grades=3,4,5 
If your school has a website, hyperlink the text "school name" with the URL to your school site.
Remove the hyperlink from the text in the last paragraph and add the full URL to the sentence. 
The finished result should look like this: